Green Kid Crafts Update August 2019
We are pleased to announce that you can now get Green Kid Crafts on Amazon!
Who are Green Kid Crafts?
Green Kid Crafts has been developed by teachers, crafty mums and STEAM experts (Science, Technology, Engineering, Arts and Mathematics).
Green Kid Crafts want to provide children aged from 2-10+ key developmental creative crafts, discovery kits and science projects that encourage the growth of the "whole child".
The Kits that Green Kid Crafts have available are designed to "activate thinking, questioning, inquiring and original creation in children".
The Green Kid Crafts Vision
Green Kid Crafts launched with the vision of helping to raise the next generation of creative leaders.
Like so many of the best children's products, Green Kid Crafts is a mother's invention, created by a working mom and environmental scientist whose personal experiences taught her how important it is for children to exercise creativity, develop a love of discovery, and learn about the world around them.
Amazing for Children
Every month, children around the world are creating eco-friendly crafts and STEAM activities, that get delivered right to their door through the Green Kid Crafts Subscription Service.
The Monthly Discovery Box is packed with 4-8 unique and engaging activity kits designed to foster a child's creativity and confidence while helping to raise the nation's next generation of creative leaders.
In addition to Green Kid Crafts subscription service, they sell other Kits that are perfect for gifts or just to have in the cupboard for fun at any time!
Other Kits Available
Science Kits
Craft Kits
Discovery Boxes that are perfect for gift giving or just keeping on hand for any time fun.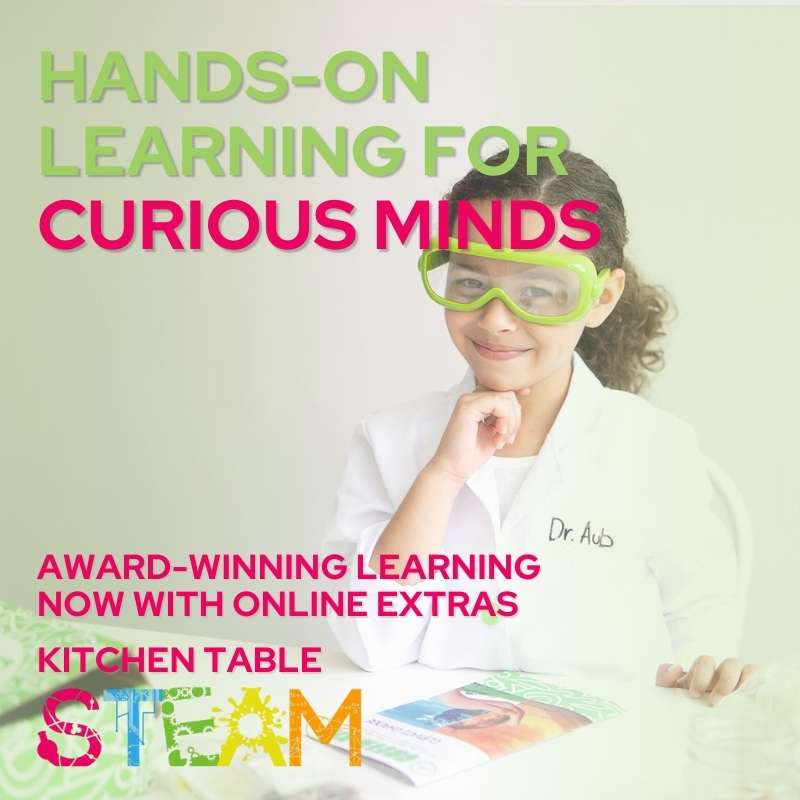 Green Kid Crafts has WON AWARDS
Green Kid Crafts has won a number of awards including:
Academics' Choice Brain Toy Award
Doctor Toy's Best Green Products
PTPA Seal of Approval
Red Tricycle's Award for Most Awesome Subscription Service
MACT Excellence and MACT Green Awards
Recommended by Parent's Choice
and many more
What does Green Kid Crafts want for your child/ren?
Green Kid Crafts has a Panel of Experts that review all their kits ensuring they meet Green Kid Crafts Happy and Healthy Child Criteria.
They do this to make sure that each time a child interacts with their kits, the child will do the following:
Create something I'm proud of. 
Projects allow kids to be creative, build confidence and enjoy a sense of accomplishment as they produce crafts and conduct experiments they love, that are unique and special to them.
Move my body. 
Activities develop fine and/or gross motor skills and encourage active play.
Use my thinking brain. 
Completing our enriching crafts and STEAM experiments flexes kids' sequencing, reasoning, and/or problem-solving skills.
Discover the world around me. 
Our products give kids a wider view of their world, from either a nature-based, scientific, or cultural perspective.
Care for me, others, and the planet. 
Discovery box themes and the kits inside also teach children to be considerate and respectful towards people and nature
At Green Kid Crafts you can choose to shop by:
Age
2 – 4 years 
5- 10 years
10 years and over 
Or You can Shop By
Product
Discovery Subscription  
Junior Subscription 
Compare some of the Subscriptions Below at Green Kid Crafts.
Shipping Options Available at Green Kid Crafts
Currently, we ship to the US and US territories, Canada, the UK, Ireland, Japan, New Zealand, and Australia.
Free shipping on all subscriptions within the U.S!
Green Kid Crafts is a Green Company
A Green Company is one that has a goal to be sustainable and it also wants to create a positive change in peoples lives with as little impact on the environment as possible.
Green Kid Crafts is an Earth Friendly company for the following reasons:
They are Carbon Neutral.

Only use sustainable, safe materials in all their products.

Give back a portion of each sale to environmental non-profit organisations.

Create positive change in children (and their parents or caregivers) lives.

Ensure that from process to product, they have no impact on the environment.

Fostering the next generation of environmentally active kids.

Partnership with Carbon Fund – they "offset 100% of the carbon dioxide generated by our business and help fund the development of renewable energy, energy efficiency, and reforestation projects across the US".

Partnership with One Tree Planted – Green Kid Crafts plants one tree for every order placed!

Boxes and packaging used are 100% recycled.

Minimize packaging and printing as much as possible.

Kits are bundled in bags that are also made from 100% recycled materials.

 We give back at least 1% of sales are donated to environmental organizations through our membership in 1% for the Planet.
Join now and let your child or children start receiving unforgettable learning experiences each month!
When I found the Green Kid Crafts company, I was so excited and wanted to share them with everyone immediately.
Fantastic Products with a strong philosophy behind them.  
Their products are brought to you by people (a company) that are passionate about what they do and what they have to offer your child or children (or yourself).
There is an Amazing amount of Reviews on their website, that just shows me just how awesome these Monthly Subscriptions are, that Green Kid Crafts has to offer.

I would love to hear from you if you have any questions or comments or to let me know what your Monthly Kit is like, leave me a message below.
Kind Wishes