Healing with Natural Oils can be of such benefit to our bodies.
Our Doctors prescribe us so many chemicals (medicines) and often the problem doesn't go away or the chemicals you are given cause terrible side effects that are sometimes worse than the original problem.
In our home, we use natural products for all household cleaning, dishes or dishwasher and laundry.
We also have no chemicals in the products we use on our bodies or in our hair.
I believe natural is the only way to go and would love to introduce to you Healing with Natural Oils.
I have found these amazing products at Healing Natural Oils Amoils.com.
I read all the reviews on each product and they really do work.
These Oils are absolutely amazing.
So I'm going to share with you a few of the oils they have.
Natural Headache Remedy
Having a headache can often be a sign of dehydration, and a big drink of water can often relieve the headache.
However, people also suffer from Tension Headaches, Cluster Headaches, Sinus Headaches and Migraine Headaches and these won't go away with a drink of water.
These headaches can be completely debilitating and can cause vomiting.
H-Headaches Formula provides relief from the throbbing head, pain over the eyes or constricted forehead symptoms that are experienced with headaches.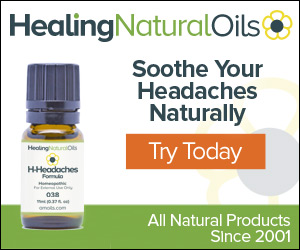 "This is a revolutionary symptomatic headache formula also contains pure natural essential oils". (Quote from Amoils).
This Oil provides fast relief.
It acts as a natural analgesic.
You apply it to your temples and back of the neck, full instructions are provided with this Oil.
As we are all individuals, results vary among us, but most people have said they can fell it start working immediately!
You can apply it up to 5 times a day if needed.
Some reviews about H-Headaches Formula
Mark S – Wisconsin
I regularly get a headache over my eyes which I think is stress-related so I don't like always taking medications for the symptoms. I was reading up online when I saw your product and thought it was worth a try seeing I could get my money back if I didn't have results. I like the smell of these oils and think that also helps with my stress. I use it almost daily and have hardly had headaches since. I'm now a convert to natural products and would definitely use your oils again and recommend them. Thank you.
– Mark
Wendy Hamilton – London
My big problem is migraine headaches.
I find the best remedy for these is to use H-Headaches as soon as I notice a migraine starts, close the drapes in my bedroom and lie down quietly for a short while. Within just about 30 minutes, I feel much better and am able to get on with my daily schedule once more.
I much prefer to use natural products over pharmaceutical drugs. They just seem safer somehow.
– Wendy
Save 25% when you purchase powerful Amoils Bundle Packs. Get all you need for optimal and natural health. Click here to learn more
Natural Skin Tag Removal
I think most of us have a skin tag or two, in fact, some people have lots of skin tags.
There are ways to treat skin tags, such as cryotherapy, surgical removal and creams you can buy over the counter.
There are also many home remedies, I have tried myself to tie cotton around a skin tag when it dies, it falls off, but what a fiddly operation it is to tie cotton around a skin tag if you have tried you will understand.
I have also heard of people using duct tape!
All of these methods can work, but I would much rather a natural and more pleasant way of getting rid of skin tags that won't leave a scar.
H-Skin Tag Formula is the Natural answer to saying goodbye to those pesky Skin Tags.
You can use it anywhere on the body, but if using around your eyes, be sure not to get it in your eyes.
Here are two reviews about Skin Tag Removal by Amoils
Cari – Cheney, KS
I was sceptical, but reading the reviews and comparing to other products, I decided to try it. I had 1 fairly new skin tag on my neck and had a few others that were older. After 10 days, I could see a change and it started getting smaller. I'm starting the 3rd week and it's almost gone. It hasn't affected the older ones yet but will continue the product and be patient. That's the hardest part. Thank you for your product and I recommend this to everyone.
– Cari

Christian S – Massachusetts
My friend and naturopath suggested I try a natural product for my neck skin tags. I tried a few products from the internet and none of them worked. One seemed to work on half my skin tag and left one half the size and harder to reduce. Your product did for me what other products I tried only promised. At first, I didn't know if it was working, and then after 10 days, I noticed big changes. I'd recommend this skin tag product any day and told my naturopath friend about it too so he'll pass on the word to his patients! Thanks!!!
– Christian
Get Rid of Stretch Marks
Over the years I have seen so many companies offer products they say will get rid of your stretch marks.
Not many of them have actually succeeded in getting rid of them.
I think most of us think of stretch marks as being a women's' issue but we can all get stretch marks.
It is often thought that you can only get stretch marks from putting on weight, but they can also appear naturally as we grow.
I know I don't like my stretch marks, and I'm sure you don't either.
I have found a solution.
H-Stretch Mark Removal Formula
You apply Stretch Mark Removal by Amoils topically by massaging it onto your abdomen, breasts, buttocks, thighs, anywhere you have stretch marks.
You need to follow the instructions provided to get the results.
It will help reduce the appearance of mild to stubborn stretch marks and your skin will get its original tone and texture back again.
Again, we are individuals, the results will vary from person to person and so will the time it takes to work.
This formula has been made so it is safe to use on children of all ages and pregnant and nursing mums can also use it.
For pregnant mums, it is fantastic as it soothes expanding tissues and promotes skin elasticity!
Here are two reviews I chose to share with you.
Sandra H – Ohio
I did not think about boys getting stretch marks so when my teenage son showed me that he was starting to get some down the sides of his abdomen I was pretty surprised. We both did some research online and discovered there is a tone of products out there. He did not want a cosmetic or product that targets women so when he found your site at Amoils he wanted to try it out. Well, I just had to let you know how well this is working!! He has been using it for about 4 weeks and is very happy with the results and we can definitely see a substantial change as the whitish lines are starting to fade – some have gone completely!! He will continue using the oils and I think it is a good idea to use it in the future to prevent the appearance of more. I want to thank you for this excellent product!!
– Sandra
Melanie S. – Minneapolis, MN
I really wish I would have taken before pictures! This works. I'm quite impressed as my expectations were hesitant. How could an oil rid stretch marks? This one somehow does the trick. It does "fade" the bright white stretch mark lines. I only used it on my back love handle area so far but have more to cover on the thighs. This goes fast and I wish it came in a large-sized pump. I'm on my second bottle and I'd say the marks have faded about 50% in appearance and anticipate them only getting less visible in time. Once I apply this to all the stretch mark areas I'm assuming it will take a few bottles to get the best result but it's worth it to me if it works. Great product here!!
– Melanie
Acne
Acne is a terrible condition that affects peoples self-esteem and confidence.
Anyone with Acne will understand this.
It is also difficult finding the right solution for Acne.
There are so many possible solutions on the market and also a lot of home remedies.
"Treating acne with products containing harsh chemicals is never a good idea for your skin. Getting rid of whiteheads by squeezing them or blackhead removal with salicylic acid is also not advisable". (Amoils)
Personally, I don't want to use anything on my face (or body) that is not natural and that may leave scars.
After finding Amoils, and reading about their products, I'm convinced that it is a great solution for Acne.
H-Acne Formula, this product sounds amazing.
A quote from Amoils about H-Acne Formula "FDA listed and manufactured in a GMP Facility in the USA, this breakthrough natural product has revolutionized the treatment of acne symptoms. Our proprietary blend of established homeopathic and essential oil ingredients allows the product to start working immediately".
Also, see related products like Rosacea Treatment by Amoils and Scar Removal by Amoils.
Here are two reviews I would like to share
Grace – NM
Ever since I was a teenager I would get bad breakouts coming into the summertime. I had tried just about every type of treatment out there from the one as seen on tv to the one in the drugstore. Nothing really gave me any type of relief and most importantly the prevention of outbreaks. During the summer heat, my chin and forehead break out really bad and quite noticeably. A friend of mine told me about your acne formula and since you had a good money-back guarantee, I figured I may as well give it a trial period. The directions were easy to follow and had no problems putting the applications on. I saw a difference in my skin only a couple of days later, I looked like I was glowing, my skin just looked healthier and I felt better. I was sure to drink plenty of water as suggested too and used a couple of drops in my bathwater. The bottom line here is that I have never had one of my really bad outbreaks go away so quickly only to leave my skin feeling as good as new, it smooth, my appearance is back and I can wear my forehead and chin proudly without any embarrassment. I use H-Acne with my daily face wash and it really makes a difference for me, nothing can compare to this product and the best part of all is that its drug-free! Take my advice – toss away all those acne products right now and get H-Acne you won't be sorry!
– Grace
Riann C – Sterling Hts, MI
This product is awesome! I suffered from very bad acne vulgaris. My dermatologist prescribed *****, which worked great but has an antibiotic and other chemicals, and in addition, was extremely expensive. I wanted something natural and that would be effective without a prescription. I tried this due to the money-back guarantee and I'm glad that I did. I'm sold for life, I also use the scar formula and my skin looks great! I highly recommend this product. I apply it with a q tip.
– Riann
Body Oil
Who loves to have their skin fully hydrated, feeling soft, looking healthy and glowing, as well as putting nutrients into your body at the same time?
I love Body Oil, especially after a shower, or put in a nice hot bath.
Simply Body Oil Formula does all the above using plant extracts and not those nasty parabens, phthalates, synthetic fragrances, PEGs and SLSs.
This Formula contains:
Ylang Ylang Oil for balancing the skins natural oil secretion.
Sandalwood Oil for moisturizing and giving you a youthful glow (as it reduces inflammation and hyperpigmentation).
Pomegranate Oil to provide you with Vitamins A, K, D, E and antioxidants.
Sweet Almond Oil to give your skin a soft satiny feel that is non-greasy.
You may like to use this in conjunction with the Simply Face Oil, Simply Eye Serum or Simply Neck Firming Oil by Healing Natural Oils for a natural beauty regime.
It sounds beautiful and I can't wait to try it.
Healing with Natural Oils is a way to love and respect your body.
Amoils have natural, cruelty-free and vegan products.
They also have a range of Single Oils from Healing Natural Oils.
It has been a pleasure getting to know these products and sharing them with you.
As always, I try to find the most natural and beneficial products to share with you.
I do hope you enjoy these and we would love to hear what your experience with them is like, so leave us a message below.
Disclosure Keep in mind that we may receive commissions when you click our links and make purchases. However, these are only products that we believe support our philosophy, any money we receive is donated to organisations that work to protect our Earth. We try our best to keep things fair and balanced, in order to help you make the best choice for you.
Kind Wishes